GIRAFFE JAPAN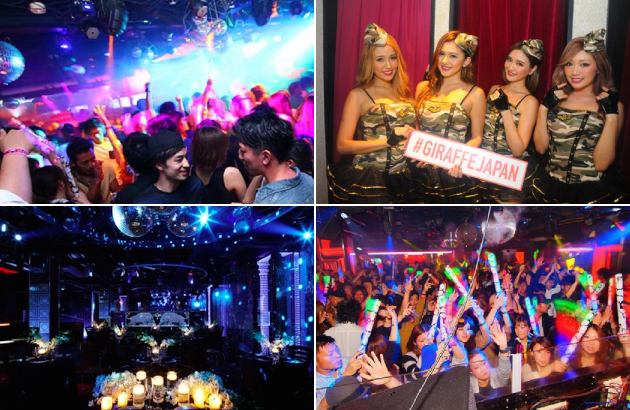 | | |
| --- | --- |
| URL | http://giraffe-osaka.net/ |
| Address | 7-9 Souemoncho, Chuo-ku, Osaka-City, Osaka 【MAP】 |
| Tel | 06-6211-1516 |
| Capacity | 1200 people |
| Floor | 2 Floor |
| Genre | ALL MIX / EDM / HIPHOP / R&B / REGGAE |
INFORMATION
Osaka's "Mecha Omoshiroi"("really funny") exists here.
At 7 p.m., it starts in GIRAFFE!!
Whatever it's a week day or week end, it's super great everyday!
Characteristically, we have "double main floors" in the building, where different events are held everyday.
250,000 people visit us every year, especially super stars such as NE-YO and Che'Nele, to this best music club in Kansai.
500 people in by 1 a.m. at week day, and 1,200 or more people at weekend, they visit us and are "ENJOYING" this.
Our club must be "Only One" in Japan, and the name is "GIRAFFE OSAKA"!!
OSAKA CLUB GUIDE LIMITED COUPON
【Lowest Price】
Show OSAKA CLUB GUIDE coupon image, get the discounts below!
【SUN〜THU】
[〜21:00]
WOMEN
¥FREE ⇒ ¥FREE+All you can drink 
MEN
¥1000/2d ⇒ ¥FREE
[21:00〜]
WOMEN
¥700/1d ⇒ ¥FREE 
MEN
¥2500/1d ⇒ ¥1000/0d
【FRI】
[〜21:00]
WOMEN
¥700/1d ⇒ ¥FREE 
MEN
¥1500/1d ⇒ ¥700/0d
[21:00〜]
WOMEN
¥700/1d ⇒ ¥FREE 
MEN
¥3000/1d ⇒ ¥1000/0d
【SAT】
[〜21:00]
WOMEN
¥700/1d ⇒ ¥FREE 
MEN
¥1500/0d ⇒ ¥700/0d